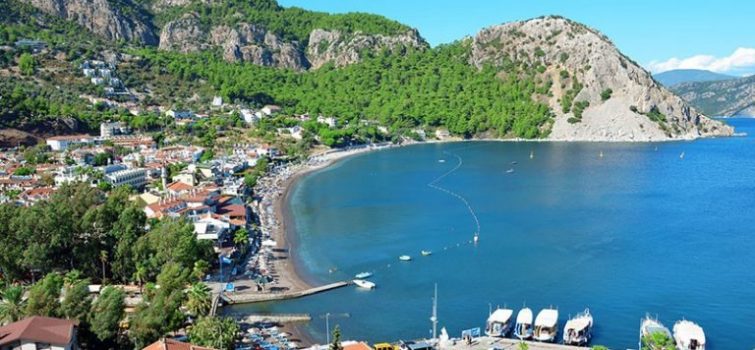 Turunc is a beautiful and very picturesque beach resort in Marmaris and is a wonderful bay hidden away on the south coast. It is located 20km south of central Marmaris and 120km from Dalaman airport.
Although it has grown in popularity with tourists it has managed to maintain the atmosphere of a charming, relaxed and small fishing village that it has always been. There is a Blue Flag beach here that sits between rolling pine-forested hills and mountains with beautiful turquoise calm waters that look over to more hills on the opposite side of the bay.The roads down to Turunc are very crooked and wind you down through outstanding landscape taking you along the Marmaris coast where the bay's stunning view suddenly appears from behind the hills.
The area has a huge variety of fruit trees; pomegranate, fig, plum, locust, berry and sour orange which actually means "Turunc" in Turkish and where the village derives its name from. Also, because it's an old fishing village it's a very popular stop for yachts and blue voyagers who moor here to dine in the local restaurants.
Turunc is excellent for those who want their evenings quiet as there are no night clubs here but if you do want a night of thumping music you can head to Marmaris main resort which is packed with nightclubs and a 40 minute bus or boat ride away.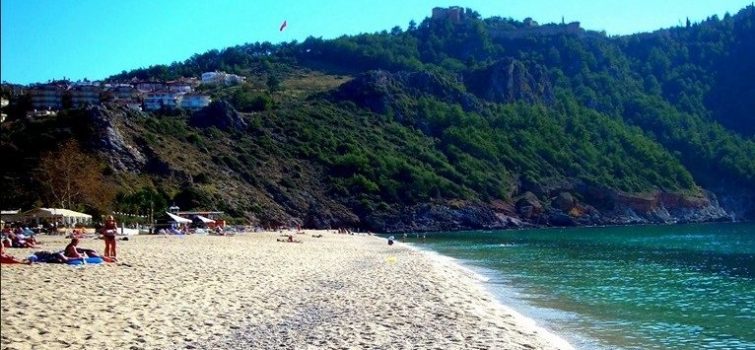 Swim, sunbathe and relax on the excellent golden sandy beach where bay-leaf, thyme, sage and carob plants grow all around, filling the air with aromatic perfume which is what attracted the Yoruk people from the Taurus mountains to settle here.
Hiking or Biking in Turunc Marmaris
You can hike, take a jeep or bike safari, and traverse through the unspoilt, pristine, lush forest and experience stunning and breath-taking views, and these stop at waterfalls that drop into crystal clear water and at pools where you can swim. They will take you through old Turkish villages yet to be spoilt by tourism, visit mosques and local tea houses and see how hand-made carpets are weaved.
One of the highlights of the trip is stopping at a grove of olive trees that are claimed to be the oldest in the world and it is said if you walk around them three times and make a wish it will come true. You can also hire cars and scooters if you prefer to tour the area and make your own itinerary.
Boat Trips
Take a boat trip, where you can relax in the sun watching the beautiful scenery pass by, drink a cocktail and eat a barbeque, and the boat will stop at various places where you can take a swim in the clear turquoise waters or take you to Ciftlik, Gebekse, Dalyan and Iztuzu Beach . There are other boats that will take you further to the lovely and peaceful bays of Kumlubuk and Amos where there is a fish farm, and Phosphorous Caves which have minerals that produce amazing light patterns in the rocks and water around the cave. Or charter your own boat and organise your own trip. 
Watersports in Turunc
There are plenty of affordable water sports on offer as the calm waters here make it perfect conditions for these activities that include; paragliding, motor boating, jet skis, scuba diving and snorkelling. The dive centres offer classes from beginners to experts and you get superb views of the surrounding mountains when you parasail being pulled along by a motor boat.
Other Activities Available in Turunc
Other activities here include; horse-riding, cycling, trekking, river-rafting and fishing or take a nature walk through the area of Palamut Tepesi (Oak Hill).  Turunc is very popular for fishing and the best time is between April and October when the fish population is at its highest.