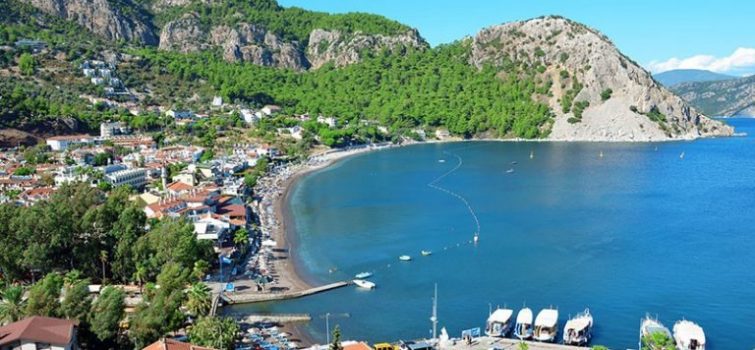 Turunc is a beautiful and very picturesque beach resort in Marmaris and is a wonderful bay hidden away on the south coast. It is located 20km south of central Marmaris and 120km from Dalaman airport.
Although it has grown in popularity with tourists it has managed to maintain the atmosphere of a charming, relaxed and small fishing village that it has always been. There is a Blue Flag beach here that sits between rolling pine-forested hills and mountains with beautiful turquoise calm waters that look over to more hills on the opposite side of the bay.The roads down to Turunc are very crooked and wind you down through outstanding landscape taking you along the Marmaris coast where the bay's stunning view suddenly appears from behind the hills.
The area has a huge variety of fruit trees; pomegranate, fig, plum, locust, berry and sour orange which actually means "Turunc" in Turkish and where the village derives its name from. Also, because it's an old fishing village it's a very popular stop for yachts and blue voyagers who moor here to dine in the local restaurants.
Turunc is excellent for those who want their evenings quiet as there are no night clubs here but if you do want a night of thumping music you can head to Marmaris main resort which is packed with nightclubs and a 40 minute bus or boat ride away.